In order to manage and use the funds effectively in the university, the local financial and administrative management system is set up as follows: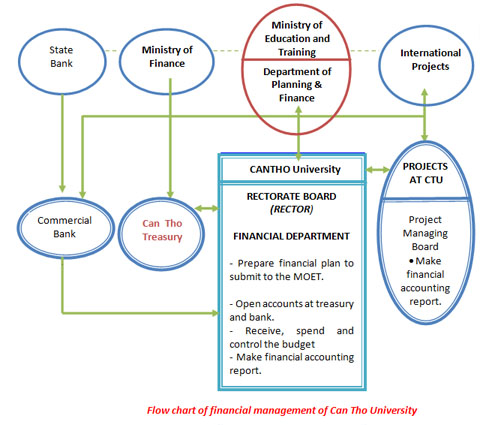 All the information involved in the VLIR Vietnam Network Biosciences on Food programme, will be sent to the Board of the University, the project (for project leader and secretary) and the supporting departments by PSU-CTU through: (1) e-mail, (2) hard copy and (3) through the VLIR-Network website of CTU. Under urgent conditions, phone call or VC meeting will be used.
A local Network Steering Committee meeting will be organised once a year for annual evaluation before an  annual activity report (AAR) has to be submitted. However, other special meetings (with different working groups) will also be arranged if it is necessary (e.g.: during Flemish programme leader mission, to solve any problem during implementation, or any request from the local programme leader and PSU-CTU).
PM will work out and check AFR periodically with a supportive staff of PSU from Department of Finance, based on VLIR-UOS guidelines, regulations and agreements already made between two coordination universities.
A specific Bank account will be opened and used for the programme. If it is necessary, the external auditing expert from the company in Can Tho city can be contracted to work for checking the Vietnamese invoices/receipts. However, if it is the case, all the costs involved will be paid from VLIR.
For the imported goods, CTU will try to ask for tax exemption.
Coordination costs will be used at both sides under autonomy rule.
1. Guiding Principles
These guiding principles and provisions shall form the base for financial transactions and administration to be undertaken by the Vietnam Network programme.
All required information should be available from the Network programme share point (http://vlirnetwork.ctu.edu.vn/) before the start of Phase I of the programme, including all detailed instructions, procedures, forms, accounting formats, reporting templates, etc.
Legal framework
The financial statement of the programme will be basically conform to the provisions of the CTU financial management and the regulations which are agreed between CTU, the partners and VLIR-UOS financial and scholarship guidelines for the Network programme.
Financial Framework
The finances of the programme shall be expedited in the implementation by PSU and programme management within the financial guidelines of VLIR-UOS, and CTU which agreed with the partners in the programme.
Auditing framework
VLIR-UOS and DGD organise a financial control process on a yearly basis. In some cases, in particular at the start of a programme, or in case of problems, external auditing will be organised.
Procurement framework
Procurement by the programme shall be in accordance with the procurement procedure of CTU  and VLIR-UOS.
Program governance
All staff, personnel and students involved, shall exercise the five basic tenets of good program governance:
-          Accountability
-          Efficiency and effectiveness
-          Integrity and fairness
-          Responsibility
-          Transparency
2. Fund transfer, distribution and reporting

The VLIR-UOS funds will be transferred to the Vietnam Network account from Belgium. The transfer shall be based on agreed annual plans of activities. The fund will be split into the projects according to the approved budget.
Each project leader is expect to execute project activities within the limit of the approved budget.
Before requesting a purchase of investment goods or consumables, travel authorization and field work expenses, the project leader checks if the project has enough budget by a budget line.
Approved funds for each project will have their own cost allocations so that expenditures per budget line shall be recorded independently. The administrator shall produce bookkeeping procedures and makes available updated budgets on a regular basis.
The administrator will report the expenditure of each project per month per budget line, including payments in advance.
The total financial report of the program will be the summary of all the project expenditures for North and South (to be compiled by the Program Manager).
Shifts of budgets between projects must be approved by the Local Network Steering Committee and formally submitted to VLIR-UOS if more than 15 %.

3. Project level financial transactions
Project leaders must closely monitor financial transactions of their respective project. All payments within a project need the approval of the project leader.
While all attempts shall be made with respect to financial rules and regulations of the government by all parties involved in the project activities, it is believed that some flexibility to facilitate the program activity is necessary. Local management will exercise this flexibility in accordance to the Local Steering Committee decisions.
In case of inadequate performance, the Local Network Steering Committee reserves the right to rationally allocate unutilized money to other projects, after consultation of and motivation to the overall coordinator.
4. Payments in advance
Any project member requesting for financial matters, per diems, advances, resettlements etc., need to fill in the appropriate forms and should get them approved by the respective project leader (for accuracy and relevance to the project activity).
Once the project leader gives his approval, it will be forwarded to the PSU, who will then send the request to the Program Manager for evaluation and signature.
Payment in Advance requests and approvals:
The Programme Manager may authorize up to 1.500 EUR for requested for payments in advance by Project Leaders and assigned to team members. Amounts more than 1.500 EUR need to be authorized by the Local Coordinator.
The Local Coordinator and Program Manager can receive prepayments up to 1.500 EUR. The prepayments received by the coordinating members are used to cover gaps and coordination activities as budgeted, not to run routine operational activities of the projects.
Officially delegated team members can withdraw money in advance.
The payments in advance are only for expenses related to operational costs (budget line B) not for the purchase of investment goods (budget line A).
The withdraw in advance by any member should be settled in one month. Advances will not be carried from one quarter to another.
In exceptional cases, where expenses are related to delegated purchases of programme related goods/equipment outside one of the partner institutions, or international travel costs (per diem), a project leader or member can receive the required amount of money. Authorization by the local coordinator is required.
No money will be used in advance before settling the prior advanced money.
The PSU shall provide and make easily available all the required forms and further details for these procedures.
5. Payments for services related to research and extension

In all cases related to payments for services as described here, the program manager and the administrator are responsible for assuring that all governmental, CTU,  and VLIR-UOS  requirements are met, so that CTU and Vietnam Network Program are not faced with unexpected demands from past or current part-time staff.
Program manager: The program manager will be paid € 8.600 on a yearly base, as indicated in the activity programme budget for Planning, C. personnel costs. Each month the programme manager, as well as service contracts will be paid from this amount.
Field workers: MSc or PhD students, recent graduates or potential candidates for scholarships under the programme will take a responsibility with the field workers (be hired) at the study location to supervise research in remote locations  to regularly gather all relevant data and information, to coordinate research end extension activities with various stakeholders and to provide training to other project collaborators in the countryside. Field workers shall not become permanent employees and a maximum service period of 6 months is suggested, which may be renewed based on assessment of performance. To facilitate administration, the steering committee will determine before the start of every year the maximum monthly payment for field workers, taking into account the specificity of the labour. In the research projects, these 'field workers' will be responsible for the daily supervision and implementation of the research protocols for each subproject.
Daily labourers: Temporary labour is needed to take care of laboratory work, other research and extension activities and specialized tasks for which the Network programme cannot provide. They are hired on a daily basis and paid at fixed intervals (i.e. weekly). Rates depend on the type of service provided, location, qualification, etc. Approximate daily rates are fixed by the steering committee at the start of each program year. Since daily labourers are not permanent employees of the institution, an attendance sheet is needed to control the number of days they have worked. Income tax and other compulsory deductions may be needed. This kind of contract can not be used for facilitators or moderators of workshops.
Drivers: drivers get special daily rates as specified in internal CTU regulations in the case of transportation done by CTU car (based on the payment of km distance and multiplied with the rate which will be different according to the auto type ordered). They also get over time payment for duties during weekends and holidays. Such payments are for extraordinary needs and have to be approved by the program manager.  In remote areas taxi services can be rent at full cost on daily basis. Each cost for the driver will be based on an invoice.
A brief translation of the CTU regulations concerning to the payment of CTU auto using as an example can be found at the end of the MM on the last page.
Contractual services: if any service is required on a regular basis or if a service is non-professional in nature but still needs to be done on contractual basis and can not be achieved by Network programme personnel, the contract has to be approved by the project leader and program manager. In all cases payments will be made after the service has been provided, with the exception of advance payments agreed upon.
Service contracts for consulting:  'classical' consulting service contracts have to be avoided as much as possible and replaced by expertise of local partners (if necessary, build up through training scholarships) or Flemish team members and short courses.  After all, the general idea is to build capacity at local partners in exceptional circumstances and after agreement of the Local Steering Committee and the Coordinators, specific service contracts, adding essential and necessary expertise can be allowed, when this expertise cannot be provided by  CTU, a partner institution or Flemish staff.
6. Purchases and related expenses
Equipment: Normally each project has priorities of purchasing equipment depending on the research set up and progress. In every AP, if a project budgets equipment (be it laboratory, farm or office), clear specifications need to be submitted. All purchases need to follow CTU  and VLIR-UOS regulations and, when required, a minimum of 3 quotations shall be obtained, and an economic and technical analysis of the recommended purchase prepared by those needing the equipment, with approval of the project leader. Any high-tech equipment can only be purchased in consultation with the Flemish project leaders. All purchases of equipment need to be approved by the Project Leader and the Program Manager.
Since bulk purchase is recommended by both VLIR-UOS and CTU  when possible and justified, the specification of items needed shall be submitted on time and compiled in the PSU before an official order is put.
7. Local per diem policy
Local staff and workers who are employed to carry out activities in the framework of the network programme will receive a per diem (on day basis, not per night). They will be paid 20 euro/day (approximately 500.000 VND/day  current exchange rate will be used to pay in Vietnamese dong) for a mission outside the own institution. This amount is calculated and considered as the main value of per diem from the international projects at Can Tho University and other institutions in Vietnam.